For several decades, Alside® has been a recognized leader in the home improvement industry due to the company's inspired innovation. It offers a range of building products for residential and commercial projects. Among its well-known line is vinyl siding, which comes in various types, styles and colors.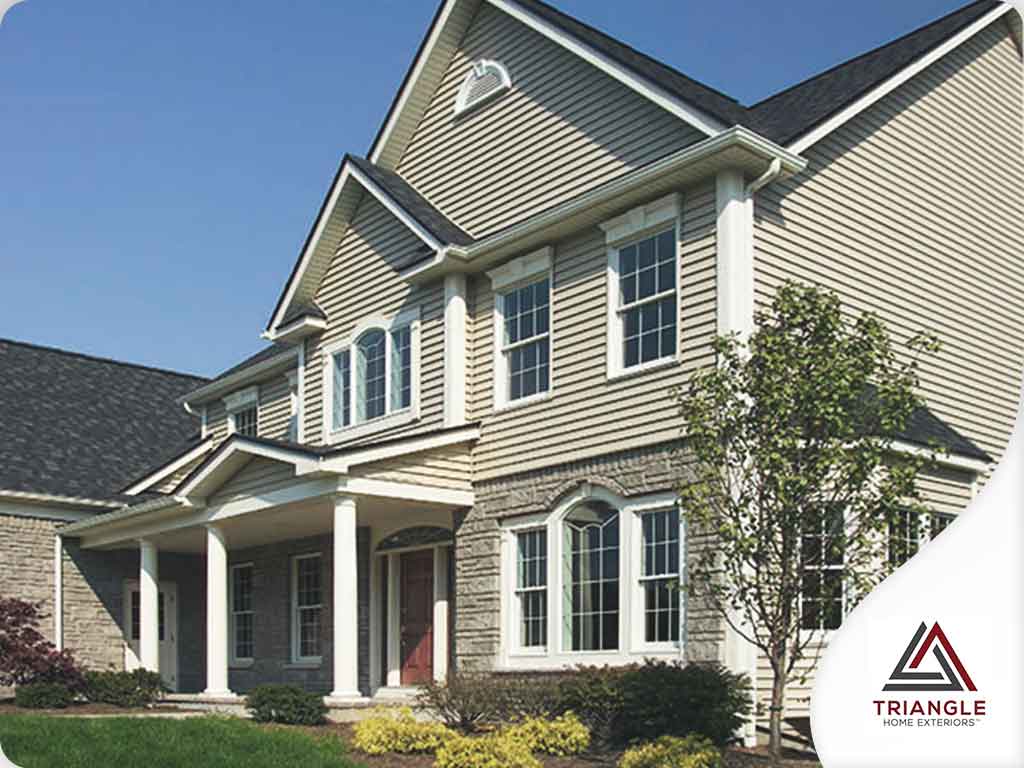 In this article, Triangle Home Exteriors, one of the top home exterior remodeling companies in the area, lists all the vinyl siding products from Alside.
Horizontal Siding
Horizontal siding is the most common type of siding and Alside offers the following options for this category:
Charter Oak – This is Alside's flagship siding product featuring an authentic wood look and superior performance and durability. It has been tested to withstand Category 5 hurricane-force winds.
Odyssey Plus – It features a SecureLock advanced nail hem for exceptional rigidity.
Coventry by Alside – It is designed with natural cedar grain texture and a rolled top hem for additional rigidity.
Conquest – It's a low-maintenance siding featuring natural cedar grain texture and low-gloss finish.
Williamsport Colonial Beaded – It features a brushed texture with warm, low-gloss finish.
Cypress Creek Variegated Siding – It is made with a fully rolled over nailing hem for maximum wall attachment.
Vertical Siding
Vertical siding is often suggested by siding contractors as it can give a not-so-ordinary look to your home's exterior. It comes in the following options:
Board and Batten Vertical Siding – It features historically inspired details of milled boards commonly found in classic 19th-century homes.
Charter Oak Soffit – It is designed with aeration openings that are hidden in the grooves, which help keep the attic cool and dry.
SuperSpan Heavy Gauge Premium Vinyl Soffit – It has a strong hurricane-locking system that keeps the panels securely in place during extreme weather conditions.
Alliance T4 Premium Vinyl Soffit – It has vented panels with an outward weave design and it's available in V-grove grain and smooth profiles.
Energy-Efficient Insulated Vinyl Siding
If you want a boost to your home's curb appeal and energy efficiency, these vinyl siding products will surely meet your requirements.
Prodigy One-Piece Insulated Siding System – It has a secure interlocking panel design that ensures a tight fit and no insulation gaps.
Charter Oak Energy Elite Insulated Siding – It has five times more impact resistance than traditional siding and features a precisely contoured insulating foam underlayment for energy efficiency.
Charter Oak Featuring BASF Neopor Technology – It has graphite particles in Neopor that reflect and absorb radiant energy.
Triangle Home Exteriors has been trusted by homeowners for the past 40 years. From roof replacement to siding installation, we ensure top-notch workmanship. Call us at (919) 436-3200 or fill out our contact form to request a free consultation. We offer our services to customers in Durham, NC, and the surrounding areas.