Increase Comfort & Decrease Energy Costs With New Windows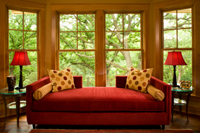 If the windows in your Raleigh home are more than 10 years old or include only single-pane glass, they could be costing you a significant amount of money every month. Studies by the U.S. Department of Energy have proven that 30% or more of a home's energy can be lost through inefficient windows and doors. When the cost of heating and cooling your home climbs higher every year, can you afford to let that money simply fly out the window?
Triangle Home Exteriors can make your home more comfortable while reducing energy bills by installing energy-efficient replacement windows. Our Raleigh replacement windows have been specially engineered for thermal efficiency and easy operation. Just as importantly, they come in a wide array of styles to add great beauty to your home.
Why Window Replacement Makes Sense
As one of WeatherLok best partners we know that most homes are constructed with builder-grade windows that offer low cost but poor thermal performance. At Triangle Home Exteriors, we install replacement windows that are specifically designed to provide maximum energy efficiency through a wide range of weather conditions and temperatures. Consider these important features of quality Raleigh replacement windows:
Efficiency. Engineered for superior energy performance, our windows combine advanced materials with modern manufacturing techniques to keep your home warmer in the winter and cooler in the summer.
Low maintenance. These windows are made of long-lasting materials that retain their shape, color and strength, and never need to be scraped or painted.
Insulated frame. While some replacement windows feature energy-efficient glass, Triangle Home Exteriors installs windows in which the entire frame and sash assembly are constructed of high-strength, low-conductivity materials that retain heat and keep your home weathertight.
Low-E glass. Panes of highly efficient Low-E glass filled with a specially formulated inert gas mixture virtually eliminate heat transfer through a window.
Tilt-in sash. Our windows feature a tilting sash for convenient cleaning, both inside and out.
Curb appeal. An expansive glass area and an attractively finished frame make our windows a beautiful new addition to your home.
Your Best Choice for Replacement Windows in Raleigh
The replacement window experts at Triangle Home Exteriors are ready to help you reduce energy costs and make your home more beautiful and comfortable. Contact us for a free estimate today by calling (919) 615-1101 or completing our online quote request form.