Increase Home Value With a New Deck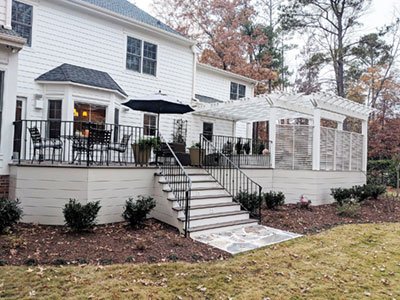 Few things add as much function and value to your home as an outdoor deck. We are a licensed general contractor, whether you want to increase your home's usability, curb appeal or fun factor, the experts at Triangle Home Exteriors will help you make the most of your living space!
Your Custom Deck Building Company
Here at Triangle Home Exteriors, we know that every customer's vision for a deck is different. Many use their decks as an outdoor entertaining space. Others see a deck as a place to relax on a summer evening.
Triangle Home Exteriors also builds screen porches and room additions. No matter what your needs, we'll take the time to learn about your dreams and make them into reality. And like our siding, roofing, doors, windows, stone veneer and more, all our deck construction is backed by a 100% customer satisfaction guarantee.
Raleigh, NC Deck Building Done Right
Choose from a wide variety of materials and finishes to suit any need and match any architectural style or décor. From attached single-level decks to poolside, detached, or multi-leveled or covered decks, our deck building team will have your new deck completed in days, not weeks, allowing you maximum seasonal enjoyment. Contact us today!