Proven Siding Installation Services

Whether you want to make your home more energy-efficient, or improve its curb appeal, Triangle Home Exteriors is the #1 siding contractor in the Raleigh area.
Here are a few reasons why you should hire Triangle Home Exteriors for your next siding installation project:
We're certified.

Triangle Home Exteriors is certified by the Vinyl Siding Institute of America, the nation's leader in training, technology and education.

We do the job right.

Our process ensures your HardiePlank, CertainTeed, Alside or Crane Siding will look great and perform well for years to come.

We use the latest, most energy-efficient products. HardiePlank siding and insulated vinyl siding offer energy savings and their long lifespan means little maintenance.
We work quickly.

Our siding technicians are skilled, efficient and usually take just three to five business days from start to finish.

We're not happy until you are!

Triangle Home Exteriors has a legendary commitment to customer service and quality workmanship. No job is finished until you're 100% satisfied with the results.
Our Siding Installation Process
For your siding replacement project, we'll begin by removing all existing siding and corner boards. Then we install moisture barrier house wrap and flashing, which is a second line of defense against water infiltration. By starting with a clean slate, we ensure that your home siding is done right the first time.
James Hardie®️ Fiber Cement Siding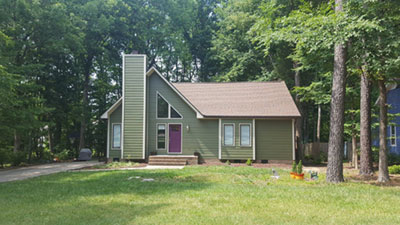 Triangle Home Exterior customers love James Hardie®️ fiber cement siding because it combines old-world craftsmanship with the latest in energy efficiency and weather resistance. Fiber cement looks appealing and will perform well for years.
You can paint HardiePlank siding yourself or select James Hardie pre-finished ColorPlus fiber cement siding, which comes with a 15-year paint guarantee. Our HardiePlank experts will come to your home and give a free, no-obligation estimate. Once we know exactly what you are looking for, we'll propose the right type of fiber cement siding that meets your needs.
HardiePlank fiber cement siding will give you a quieter home, better weather protection and help lower your cooling bills.
Stone Veneer Siding
If you want your house to feature the look and durability of natural stone, but without the time, structural weight and expense, Triangle Home Exteriors' artificial stones are a great alternative. Our stone veneer siding is cast from the latest materials that are sure to make your home look good for generations.
Stone veneer siding has the following advantages of real stone facing for retaining walls, household exteriors and more.
Lower Costs: Artificial stones can be installed in less time and for less than money than the real thing.
Less Weight: Since artificial stones weigh less than actual ones, stone veneers can be stacked on almost any surface without the need for structural reinforcement.
Easy Customization: Manufactured stones come in a variety of sizes, shapes, colors and textures, so it's easy to create a dramatic, realistic stone look for your residence or commercial space.
Consistency: Our stones are made using the most up-to-date techniques and materials, guaranteeing they'll keep your home protected for a long time.
Side by side, it's hard to tell an artificial stacked stone veneer from the real thing. Only you and your wallet will know the difference!
Contact Triangle for Your Next Siding Project
If you feel it's time for an upgrade, let Triangle Home Exteriors help. Call (919) 615-1101 or complete our online request form for your no-obligation consultation.