Choosing bathroom windows require a different set of criteria than the rest of the house. Bathroom windows need to have a good balance between privacy, ventilation and natural lighting. In this blog, the replacement window and siding contractors at Triangle Home Exteriors share a quick guide on the factors that should be considered before you choose your bathroom windows.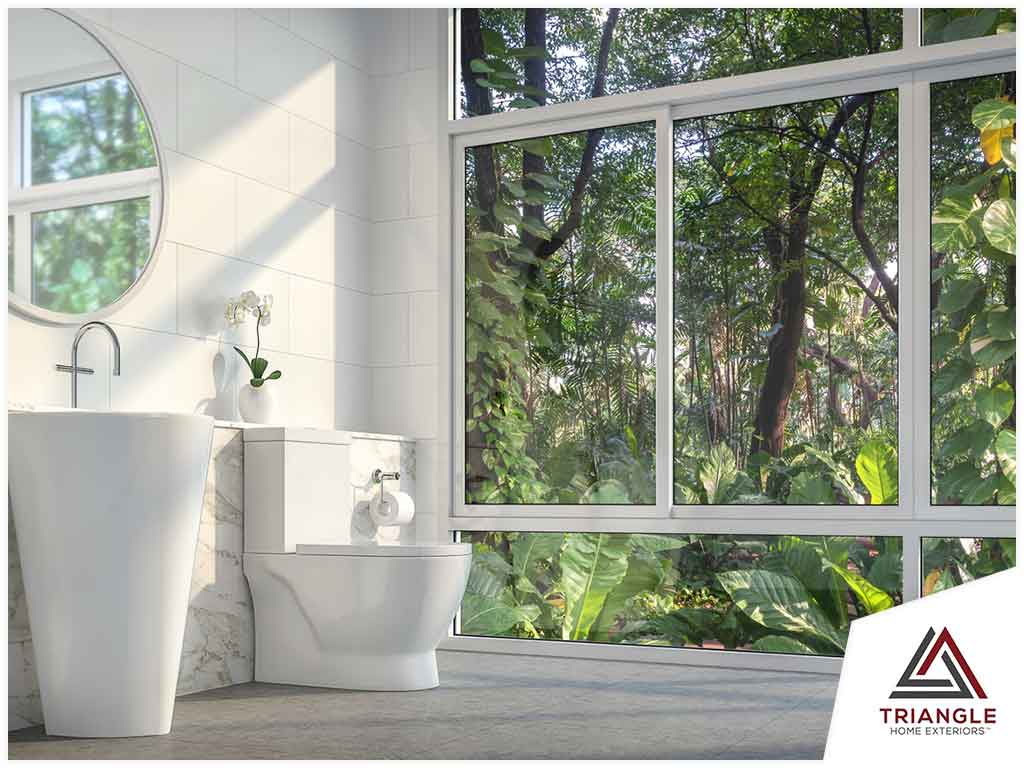 Glass Area
Bigger windows will allow more natural light into your bathroom. This is easily done in new construction, but it's not as easy when replacing existing windows unless your renovation plans include making significant changes to the exterior wall. You can choose to combine two adjoining windows into one large window. Adjoining windows are typically built on a single large opening, separated by a beam or framing that can be removed.
Alternatively, look for window frames made with durable materials. Some manufacturers offer replacement windows with stronger-than-average slimmer frames that allow bigger glass areas. This may sound like a small improvement, but shaving a few inches off the frame—without compromising structure, performance, or longevity—can make a significant difference.
Privacy
Privacy is important in bathrooms, and your bathroom windows complement that requirement. It is also the easiest to achieve, thanks to window treatments. Anything from sheer curtains to plantation shutters work on bathroom windows. For major renovation work, home exterior remodeling companies can reposition the windows so the bathroom interiors would be out of sight. This would, however, deprive you of a view, as well as reduce natural lighting.
If you would rather not have window treatments on your bathroom windows, windows with low emissivity (Low E) coatings have reflective properties, which may help prevent people from casually looking through them. Textured, frosted, or stained glass options can also obscure the view, but they will do so both ways.
Ventilation
Even if your bathroom has a working ventilation system, you will need windows that will let you flush excess heat, humidity, and odors from the bathroom. This means you should consider having at least one operable window in the bathroom. Natural ventilation can also help reduce the workload on your bathroom ventilation fans.
Triangle Home Exteriors is your leading provider of window and roof replacement services. Give us a call at (919) 615-1101 or fill out our contact form. We serve customers in Durham, NC, and nearby areas.