Screened-In Porches Are the Perfect Addition to Your Home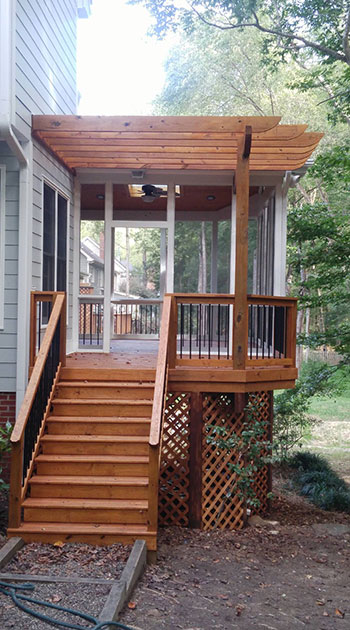 When you want to enjoy the best the outdoors has to offer, a screened-in porch from Triangle Home Exteriors is the best choice for your Raleigh/Durham, NC home!
The Value of a Screened-In Porch
Over the years, we've helped hundreds of customers enjoy all the benefits of a screened-in porch built over their patio or deck, including:
Additional Living Space: Outdoor enclosures allow you to maximize your square footage without a lot of major changes to your home's framing or other components.
Bug-Free Quality Time: Whether it's relaxing by yourself with the Sunday paper or enjoying dinner al fresco with the whole family, you'll love the fresh air and outdoor view from your new screened porch — without the hassle of mosquitoes and other pests!
Easy Entertaining: Hosting friends and family has never been easier or more enjoyable! People love outdoor parties, and a screened-in porch can make your next event stand out.
Safe Playtime: Give your children access to fresh air without safety concerns. A custom or childproof latch is all you need to let them have freedom and fun.
Increased Value and Curb Appeal: Screened in porches are on many homebuyers' wish lists, and add resale value to boot.
When you're ready to learn more about our enclosures and how we can add a screened-in porch over your patio or deck, contact us for a free, no obligation estimate, or fill out the form on the right. Just like our siding, roofing, windows, stone veneer and more, all of our screened-in porches are backed by our 100% customer satisfaction guarantee.