The Better Business Bureau, or BBB, is the most recognized organization that customers turn to when looking for trustworthy businesses. We at Triangle Home Exteriors are proud of our consistent A-plus rating with the BBB. In this blog, we share a closer look at why this rating is important when looking for home exterior remodeling companies in the area.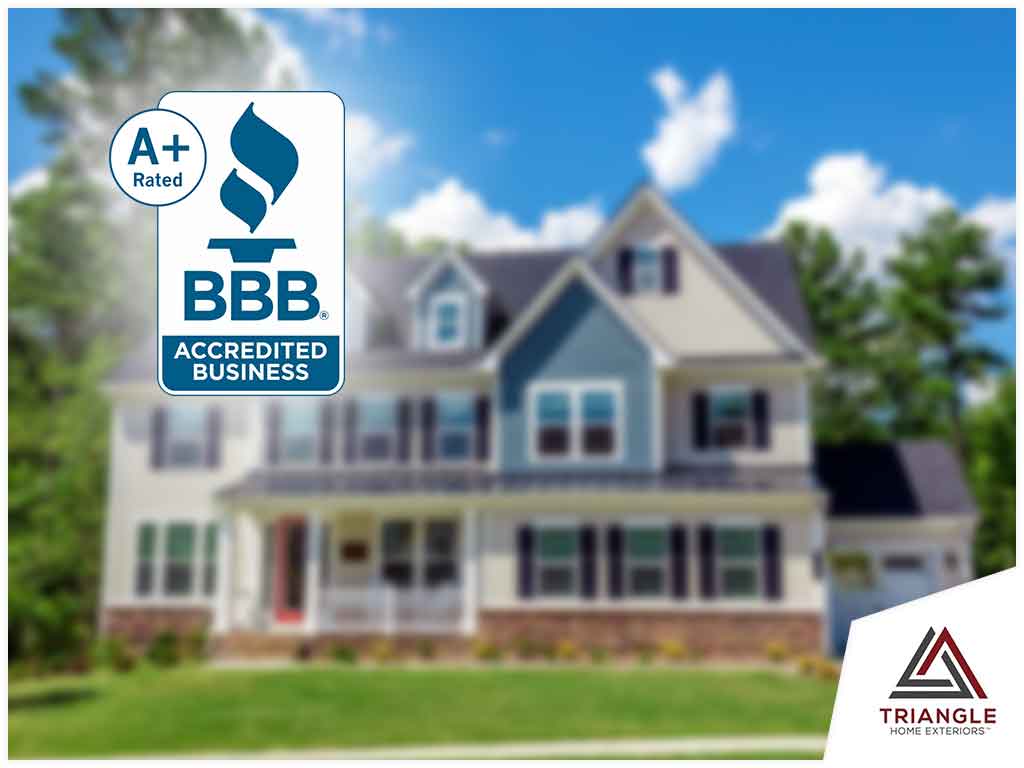 Better Business Bureau Ratings
BBB ratings represent how they view businesses and their interactions with their customers. The BBB rates businesses from A-plus as the highest and F as the lowest. Some businesses may receive NR ("No Rating") if they are undergoing a review, or if the BBB has not received sufficient information about the business. BBB ratings do not factor customer reviews into their ratings, but are rather based on the following elements:
1. Complaint History With the BBB — The BBB considers the number of complaints filed against the business, as well as how they have responded to these complaints.
2. Type of Business — The BBB rating can be negatively affected if the business is the type that raises marketplace concerns, or if its operations are believed to be violating the law.
3. Time In Business — The company's tenure, regardless of changes in ownership and/or management is considered.
4. Transparent Business Practices — Businesses, including siding contractors, can gain higher ratings if they practice transparency in their marketplace conduct. These practices include publishing a detailed list of services, using clear and understandable language on their agreements, and being upfront with project costs.
5. Honoring Commitments to the BBB — Businesses should honor commitments made to the BBB, including abiding by a mediation settlement award.
6. Licensing and Government Actions Known to BBB — Businesses must be properly licensed in the areas that they serve. Ratings may be lowered for a business if there are known government actions against them.
7. Advertising Issues Known to the BBB — Misuse of BBB trademarks, customer's complaints against the business's advertisements and other questionable marketing practices can all result in a lowered BBB rating.
Why Should You Hire an A-Plus Rated Contractor?
We at Triangle Home Exteriors want to assure our customers that we deserve their trust. This is why we prominently display our BBB rating on our website. As a BBB-accredited business since 2007, you can count on us to provide the best products and services, as well as honest customer service.
Triangle Home Exteriors is your leading provider of home remodeling and roof replacement services. Give us a call at (919) 615-1101 or fill out our contact form. We serve customers in Raleigh, NC, and nearby areas.